Do you want to reward your employees at your next company party?  
Are you hosting a "Client Appreciation Night"?  
Steve's Magic is an elegant and sophisticated entertainment that can help make your event special.
Steve Kish was probably hired by one of your neighbors to perform at their Halloween Party, Christmas Party, or some other special event.
For adult events, Steve will intertwine Magic, Mentalism, Mystery, and Comedy and is guaranteed to twist your brain.
"If it's not fun, you're not doing it right."  
A sampling of Steve Kish Close-Up Magic: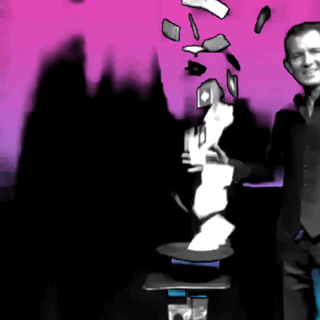 ⭐️
⭐️
⭐️
⭐️
⭐️
(5 of 5 Stars)
Lauren B. of Frederick MD writes on 12/18/17: 
Holiday Party Entertainment
"Steve was a great addition to our organizations holiday party! Everyone was blown away by his performance and kept us on our toes! We loved that Steve was able to walk around and entertain our staff casually throughout the event vs having a staged performance."
Steve has performed at Massanutten Ski-Resort, the Landsdowne Resort, as well as most of the area local Country Clubs (River Creek, Hermitage, The Washington Club, etc…).
  Steve performed for the Investors Network and the National Automobile Dealers Association in Virginia among many others for client appreciation nights or special company events.
⭐️ ⭐️ ⭐️ ⭐️ ⭐️  (5 of 5 Stars)
Laura W. of Damascus, Maryland writes on 10/31/2012:
"Steve recently completed a performance at my adult only Halloween Party. His suggestion was to perform "strolling illusions" and it was simply perfect! Once Steve's availability was confirmed, nothing else was required on my part to ensure this entertainment choice would be a hit. All Steve had to do was show up, which he did promptly! Upon arrival Steve immediately begin entertaining small groups of guests with unique and unbelievable illusions. He even amazed my most doubtful and critical guest! Steve was friendly, professional and highly engaging. He exceeded my highest expectations and would hire him again without a second thought!
Steve, thank you so much for making my Halloween party a hit with all my friends! I can't wait until my next special occasion and what type of performance you might suggest! You will CERTAINLY hear from me when I schedule my next event! Thank you again!"
Dates fill up fast!  Book now!