⭐️ ⭐️ ⭐️ ⭐️ ⭐️  (5 of 5 Stars)
The kids all had a great time and enjoyed the show very much! I enjoyed your professionalism and willingness to work with us to get all of the logistics worked out and get the show started without a hitch!" 
Mary Rita C., 
School Administrator, Farmwell Middle School
"T
he last day of school at Farmwell Station for 450 6th graders today.  They were surprised and amazed at their magical assembly.  Here is some immediate feedback.   
Thank you so much for presenting at Farmwell Station today.  The kids all had a great time and enjoyed the show very much! I enjoyed your professionalism and willingness to work with us to get all of the logistics worked out and get the show started without a hitch!  Thank you for taking the time to do all of that and engage our students on a day when that task isn't the easiest thing!  I look forward to working with you again in the future!"  
Mary Rita C., 
School Administrator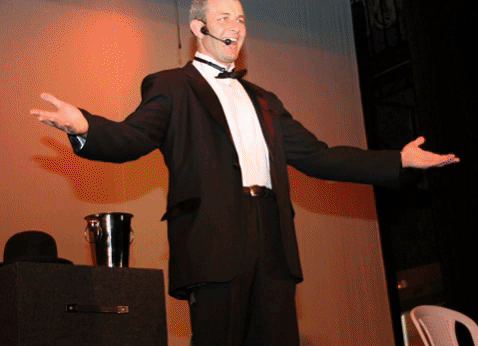 Another rave review from a different middle school:
"The show was entertaining and fun for the students.  One of the best things in working with Steve Kish was that he was very accommodating and willing to work with our school to meet our needs and preferences, as well as to work within our financial and time capabilities.  
Steve was very engaging and energetic, as well as readily captivating the students' attention.  Despite only having a half hour for the performance, Steve fully utilized every minute, performing different tricks, illusions, and escapes.  He also encouraged audience participation and involved some students and teachers in his acts."  
Becky W, 
School Psychologist.