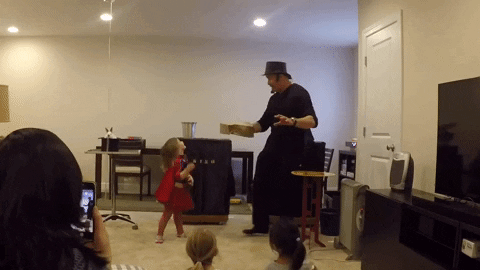 What should you look for when hiring a Magician 🎩?
The Hiring Process:  Hiring a Magician for the first time can be confusing experience.  There is a spectrum of quality in entertainment out there.  When you spend your money, you don't want to be disappointed.  The old saying, "you get what you pay for," is especially true in the Magic business.  Sometimes, there's a big difference in quality between different Magicians.  For example, for a  Birthday party magic show there are three or four top magicians in the local area.  There are two things I highly recommend you look at before you hire a Magician... Watch their videos and read the reviews.
— Videos:  Back when I started out in the late 70s, most of my advertising was print media and word-of-mouth.  Some magicians had sample videos, however, production was expensive and not feasible for many quality entertainers.  Today, there is no reason for magician not to have YouTube videos that display exactly what you are paying for.  For example, I have over 60 youtube videos that give you various samples of recent performances to include 20 from 2018 alone.  
— Reviews:  A Magician's business is heavily dependent on reviews.  A quality magician should have 20 to 40 reviews on his website from the current year.  Also, most quality professional magicians will also have reviews on google, gig salad, or some other independent review webpage similar to yelp.  I asked every client for feedback.   Every review I received from the client I placed on my website.   The quality entertainers will be showmen first and Magicians second. I guarantee to put on a great show.
🎩 When you hire Steve Kish the  magician you know exactly what you're paying for and the type and style of performance you can expect to experience 🐰